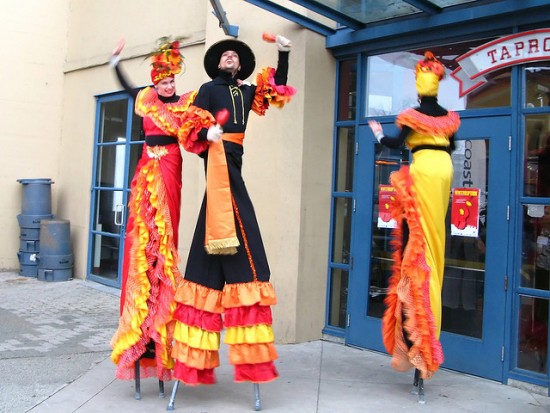 Image courtesy of Urban Mixer | Flickr.com
Arts….Music….Film….Food….
On Granville Island. Feb 19-22/15
Check out Giants, the largest outdoor mural ever created by Brazilian artists Osgemeos on six gigantic silos.
Aché Brasil: stunning acrobatics, hypnotic rhythms of Afro-Brazilian dance and the awe-inspiring art form of Capoeira (Afro-Brazilian martial arts and acrobatics) will leave you spellbound.
Learn the intriguing story of remarkable artists in the documentary film "Grey City", at Emily Carr University Theatre.
"1 of 15 top documentaries to watch out for this year" – Huffington Post.
If you're looking for kids' activities, head to the Kids Zone.
The False Creek Community Centre caters to the 5-and-under set with fun, free games, while MAKE (Duranleau St) invites you to create Yarn-aments & Yarn-imals.